Egyptiaca outside of Egypt
In cooperation with the University of Leipzig and the Bar-Ilan University the Minerva Center RIAB organises an international workshop.
From April 7th to 8th the Minerva Center for the Relations between Israel and Aram in Biblical Times (RIAB) organises a German-Israeli workshop together with both the University of Leipzig as well as with the Bal-Ilan University. Main discussing points will be Egyptian and Egyptianizing artifacts, architecture, and literature found throughout the Levant and the Arabian Peninsula, in order to gain a transregional perspective on the phenomenon of Egyptiaca.
Panelist
After both co-directors of the Minerva Center, Angelika Berlejung and Aren Maeir, have opened up the workshop scientists from all involved german and israeli institutions will follow with interesting notes:
Ido Koch: Southern Levantine–Egyptian Interactions during the late Second and the early First Millennia BCE: An Outline
Shirly Ben-Dor Evian: Egypt and the Levant in the Iron Age: From Territorial to Cultural Empire
Gunnar Lehmann: Egyptians in the Southern Levant: A View from the Negev
Laura Gonnermann: Isis and Pataikos – an (Un)Equal Pair of Inscribed Amulets
Alexander Ahrens: The Perception of Egyptian Imports in the Northern Levant in the 2nd Millennium BCE
Helene Sader: Aegyptiaca in Late Bronze and Iron Age Levant: The Case of Lebanon
Bernd U. Schipper: "What the King of Byblos Had Brought from Egypt!" The Fragmentary Statues of Sheshonq I and Osorkon I and the Foreign Policy of the 22nd Dynasty
Stefan Münger: Egyptian Stamp-seal Amulets from Bronze and Iron Age Transjordan — Overview and Selected 'Highlights'
Arnulf Hausleiter/Gunnar Sperveslage: Egypt and Arabia in the context of regional networks
Please see full workshop details including recorded sessions at aramisrael.org
Participation via Zoom
About the Minerva Center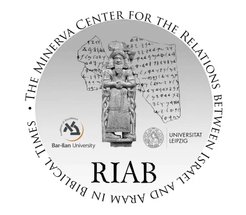 Established in 2015 the Minerva Center for the Relations between Israel and Aram in Biblical Times (RIAB) focuses its research on the study of the relations between the Israelite/Judahite and Aramean cultures during the biblical period, with particularly questioning on whether these relations were of autonomous/independent nature or reflect mutual influences and interdependencies. The center's activities foster a deeper understanding of the connections between these two cultures over a broad range of periods, and lay the foundations for a broad range of topics of study. Connections that will be fostered between scholars in Israeli, German and other institutions, as well as between Israelis and members of other contemporary Near Eastern communities will be of importance – both on a scholarly and contemporary level. Conferences, meetings, workshops, student mentorships, and various joint Israeli-German meetings and activities are carried out, both on the senior/researcher level, as well as between students from both countries. The Minerva Center is jointly co-directed by Prof. Aren M. Maeir of Bar-Ilan University and Prof. Angelika Berlejung from the University of Leipzig.