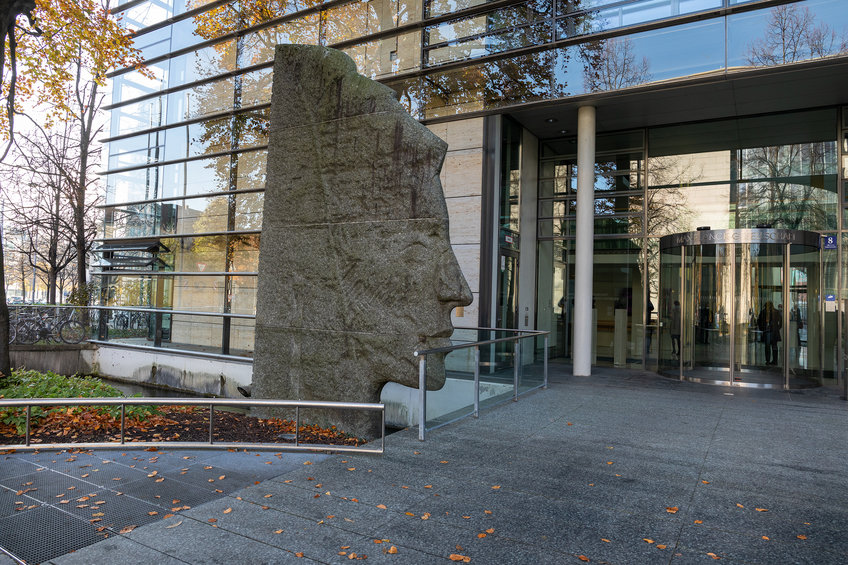 How to get to the Minerva Stiftung
The Minerva Stiftung is based in the Administrative Headquarters of the Max-Planck-Gesellschaft in the heart of Munich. 
Address
Minerva Stiftung
Gesellschaft für die Forschung mbH
Hofgartenstraße 8
D-80539 München
Phone +49 89 2108-1420
Fax +49 89 2108-1451
https://www.minerva.mpg.de
Directions
By train
ICE, IC and EC trains go to Munich central station (Hauptbahnhof). From here take the subway lines "U4" (direction - Arabellapark) or "U5" (direction - Neuperlach Süd) to Odeonsplatz. Once above ground, walk through the arches into the Hofgarten. Hofgartenstraße is at the other end of Hofgarten on the right. From Odeonsplatz, through the archway and straight ahead to Hofgartenstraße (15 - 20 minutes).
By plane
Get on the "S1" or "S8" train at the underground stop at Franz-Josef-Strauß Airport and stay on until Marienplatz. Change here and take the subway lines "U3" (direction - Olympiazentrum) or "U6" (direction - Garching-Hochbrück) to Odeonsplatz. The whole trip takes roughly 45 minutes.
By car
The Max Planck Society can be reached by taking any autobahn approach in the direction of downtown Munich (Stadtmitte) until Altstadt-Ring (with the segments Oskar-von-Miller-Ring; Von der Tann-Straße; Franz-Josef-Strauß-Ring; Karl-Scharnagl-Ring; Thomas-Wimmer-Ring; Frauenstraße; Blumenstraße; Sonnenstraße; Lenbach- / Maximiliansplatz). Turn off Thomas-Wimmer-Ring or Karl-Scharnagl-Ring onto Maximiliansstraße (in the direction of downtown) and drive past the Four Seasons Hotel (Hotel Vier Jahreszeiten) on your right. Take the second right to Alfons-Goppel-Straße. There are no parking possibilities on the Hofgartenstraße.