Statement on the terror attacks against Israel
We, the Max Planck Society and the Minerva Foundation, condemn the horrific attacks by Hamas against Israel in the strongest possible terms.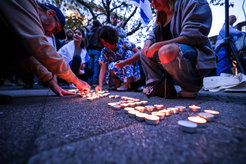 We stand in solidarity with Israel. We grieve for the lives lost, remembering the Israeli people and others from around the world who have fallen victim to Hamas' terrorist attacks. Our heartfelt sympathies go out to their families, friends and loved ones, especially also our colleagues at Israeli universities and the Weizmann Institute of Science.
Our thoughts are also with the Israeli researchers at the institutes of the Max Planck Society and the Israeli Minerva fellows living in Germany, who are deeply affected by this devastating situation.
The terrorist attacks on October 7 have led to Israel declaring a state of war. Among those being called up as reservists are students, young academics, and other employees of universities and research institutions. The attacks by Hamas, and this also fills us with great sorrow, have also caused, and will cause, unspeakable suffering among the Palestinian civilian population. Terrorism does not offer prospects for the future—for anyone.
In these difficult times, we remain especially committed to maintaining our close scientific and personal ties with the research institutions in Israel, and we will utilize these connections to extend support wherever possible.