TAU awards Honorary Doctorate to Jürgen Renn
Current Chairman of the Minerva Centers Committee joins distinguished list of honourees that includes Angela Merkel, Tony Blair, Eric S. Lander and many others.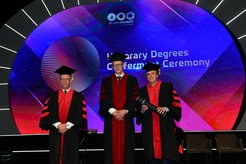 Jürgen Renn, Director at the Max Planck Institute for the History of Science, has been awarded the degree of Doctor Philosophiae Honoris Causa by Tel Aviv University (TAU) at a festive ceremony in May 2022. The award, which is the highest honour of TAU, recognises his outstanding research on long-term developments of knowledge that takes into account the process of globalisation. In total, eleven scientists have been awarded honorary degrees, all of whom have made exceptionally positive impact on the world. More than 300 guests, among them senior TAU officials, academics, governors and friends, attended the ceremony and reception.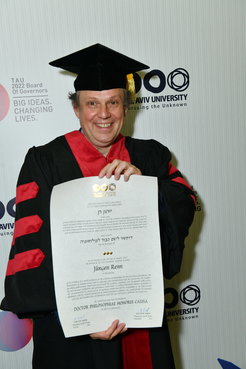 Renn has visited Israel and TAU many times during his academic career. He held the Simon Silverman Visiting Professorship of History at TAU between 1993 and 1994 and serves as chair of the advisory board of the Minerva Humanities Center, also located at TAU, since 2009. Furthermore, as a member of the reserach programme on the History of the Max Planck Society, he studied the special relationship between the Max Planck Society and the Israeli scientific community after WW II and, together with Thomas Steinhauser and Hanoch Gutfreund, wrote the 2017 reprint of "A Special Relationship: Turning Points in the History of German-Israeli Scientific Cooperation". Until today he maintains a deep and warm friendship to TAU and has been very instrumental in establishing a fruitful, long-term collaboration between his Institute and TAU.
In his function as chair of the Minerva Centers Programme, Renn will continue to form the landscape of the German-Israeli academic exchange. Most recently, he played a major role in shaping the topic of the current Call of Applications "Fragmentation". So far, applications have been received from all seven Israeli universities. On 31 May, the Minerva Centers Committee will hold its first meeting to discuss the applications. However, as the application process is multi-stage, the final result is not expected until early 2023 at the earliest.
More about Jürgen Renn