Disseminating Jewish Literatures
Knowledge, Research, Curricula
A brand new volume has been published that is based on the papers held at the Minerva-Gentner Symposium in Berlin at Freie Universität in June 2018.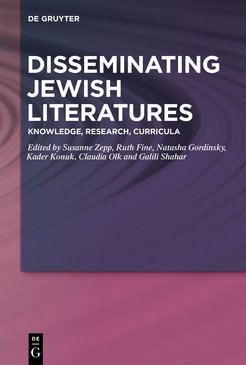 The volume Disseminating Jewish Literatures has been edited by the symposium's organizers, Professors Susanne Zepp (Freie Universitaet Berlin), Ruth Fine (The Hebrew University of Jerusalem), Natasha Gordinsky (The University of Haifa), Kader Konuk (Universitaet Duisburg-Essen), Claudia Olk (Ludwig-Maximilians-Universitaet München) and Galili Shahar (Tel Aviv University). The book compiles case studies that represent a broad range of epistemological and textual approaches to the curricula and research programs of literature departments in Europe, Israel, Latin America and the United States. In doing so, it promotes the integration of Jewish literatures into national philologies and the implementation of comparative, transnational approaches to the reading, teaching, and researching of literatures.
Instead of a dichotomizing approach, Disseminating Jewish Literatures endorses an exhaustive, comprehensive conceptualization of the Jewish literary corpus across languages. Included in this volume are essays on literatures in Arabic, English, French, German, Hebrew, Hungarian, Italian, Polish, Portuguese, Russian, Spanish, and Turkish, as well as essays reflecting the fields of Yiddish philology and Latin American Studies.
Disseminating Jewish Literatures
Knowledge, Research, Curricula
Edited by: Susanne Zepp, Ruth Fine, Natasha Gordinsky, Kader Konuk, Claudia Olk and Galili Shahar
Publisher: De Gruyter
Year: 2020