Empowerment for Female Scientists
Minerva Alumnae speak out for International Women's Day
Each year the International Women's Day is globally celebrated on March 8th. Everyone can make a difference to help build a more gender equal world. Therefor the Minerva Stifung also feels strongly committed to women's equality and as it is a big day for inspiration and change we have asked three of our former Minerva Fellows about their thoughts on how to empower female scientists.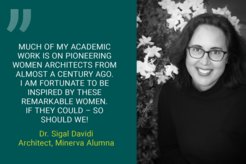 About Sigal Davidi
Dr. Sigal Davidi is an architect and architectural historian as well as a lecturer at Tel Aviv University's David Azrieli School of Architecture. In 2018 she got a Minerva Post-Doc Fellowship at the Institute of Architecture and Urban Development at the Technical University Berlin. There her research topic was "Caring for Elderly Parents in Mandatory Palestine (1920-1948): Social Modernism in Planning Old Age Homes for German Jewish Immigrants". She researches the history of architecture in Israel, with a special interest in modern architecture and gender in pre-state Israel.
About Moran Godess Riccitelli
From 2017 to 2020 Dr. Moran Godess Riccitelli was a Minerva Post-Doc Fellow at the Institute for Philosophy at the University of Potsdam, where her research focus was on "Imagination and the Moral Proof of God: On the Significance of the Power of Imagination in Kant's Ethicotheology". She is currently continuing her research work at the University of Potsdam.
About Evgenia Olshvang
From 2018 to 2020 Dr. Evgenia Olshvang got a Minerva Post-Doc Fellowship at the Faculty for Chemistry and Biochemistry at Ruhr University in Bochum where she worked on "Siderophore-antimicrobial Peptide Conjugates as Novel Antimicrobial Tools" at the Chair of Inorganic Chemistry - Bioanorganic Chemistry. Since then she moved on to work in industry in Mecklenburg-West Pomerania.