Latest Journal NAHARAIM out now
Franz Rosenzweig Minerva Research Center just published its Journal of German-Jewish Literature and Cultural History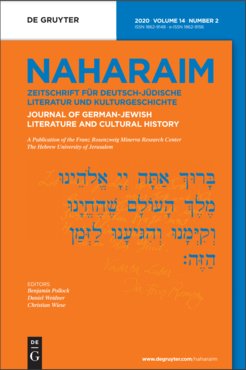 The Franz Rosenzweig Minerva Research Center has published the latest issue of its journal Naharaim: Journal of German-Jewish Literature and Cultural History (Zeitschrift für deutsch-jüdische Literatur und Kulturgeschichte).
Edited by Benjamin Pollock, Daniel Weidner and Christian Wiese, this issue 2/2020 - Volume 14 includes a special section (Part II of II) that is dedicated to contributions by participants of the conference "Back to Redemption: Rosenzweig's Star 1919–2019", which the center hosted on February 17–20, 2019.
Other contributions include articles on separation in the Theresienstadt Ghetto, Simon Kronberg's writing and the correspondence between Gershom Scholem and Jacob Gordin.
About the Journal
The journal Naharaim was founded by the Franz Rosenzweig Minerva Research Centre at the Hebrew University of Jerusalem in 2007 and appears bi-annually under publishing house De Gruyter. It is a double-blind peer-reviewed journal that publishes the latest research on philosophical, literary and historical aspects of German-Jewish culture. The articles appear in both German and English. Naharaim (Hebrew for Zweistromland, a land that lies between two rivers) presents biographical portraits and research on the intellectual history of German-speaking Jewry. The journal explores paradigmatic thinkers within German-Jewish modernism since the Emancipation; traces the outlines of the German-Jewish experience both in the context of general Jewish issues and beyond the specific Jewish horizon; discusses the phenomenon of secularisation as a process of transformation of religious content taking place within the framework of a secular worldview; and critically engages with theoretical debates in France, North America and Germany that address topics from past and contemporary Jewish thought.
About the Franz Rosenzweig Minerva Research Center
Established in 1990 at the Hebrew University of Jerusalem the Franz Rosenzweig Minerva Research Center aims to promote the study of German and German-speaking Jewry in diverse disciplines, ranging from history to philosophy and to literature and arts. Over the last years the Center has been especially focusing on the questions of spatiality, cultural property, transfer of knowledge and the continuity of German culture in Palestine and Israel. It is named after the German-Jewish philosopher Franz Rosenzweig (1886-1929), whose life and work are considered to be emblematic of the German-Jewish cultural legacy, the Center seeks to honor the achievements of German and German-speaking Jewry from the Middle Ages through and after the Shoah.