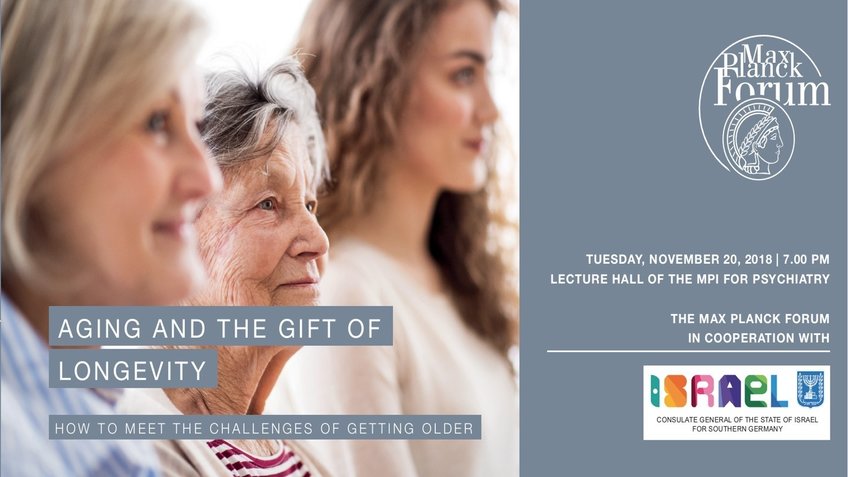 Joint Max Planck Forum: Aging and the Gift of Longevity
As people in Germany and Israel are increasingly getting older, several social and cultural changes are to be expected. For this reason, the Max Planck Society and the Israeli embassy in Munich organized a joint Max Planck Forum about "Aging and the Gift of Longevity - How to meet the challenges of getting older" at the Max Planck Institute of Psychiatry.
Under the guiedance of Mararet Heckel, who acted as a presenter, three experts in the field of aging discussed the question how to meet the challenges of getting older on 20 November 2018. The main focus of the debate was on the effects of aging on human work and retirement life. Do people have to work longer in the future to get sufficient and decent pensions? Are humans even going to be physically and mentally able to work beyond the age of 67? What technologies can help elderly people today to structure their retirement lives? It was also necessary to ask these questions twice because aging sometimes affects men and women differently.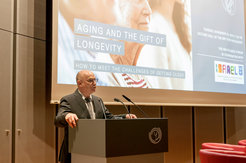 At the beginning of the Max Planck Forum, the President of the Max Planck Society, Professor Martin Stratmann, welcomed all guests and live-stream viewers at the Max Planck Institute of Psychiatry. In his adress, he stressed the importance of the scientific relationship between Germany and Israel and highlighted the significance of aging for the German and Israeli societies. Sandra Simovich, Consul General of the State of Israel in Munich, emphasized the strong signal of the jointly organized event in her speach at the lecture hall of the Max Planck Institute. Yael Sorek-Benvenisti (Tel Aviv, Israel), Anna Oksuzyan (Rostock, Germany) and Axel Börsch-Supan (Munich, Germany), the three scientific speakers of the evening, focused on several aspects of aging. A more flexible retirement age, better usability of technology in the workspace and the request to the government to act as a pioneer, were discussed by the team around presenter Margaret Heckel. After the main discussion, the audience was invited to ask their questions to the speakers.