Lockdown life in Israel
Minerva fellow Dr. Suliman Adam interviewed in latest Max Planck Journal
Dr. Suliman Adam, a current PostDoc at Hebrew University in Jerusalem and Minerva fellow tells Max Planck about his life and research acivities in times of the corona crisis and lockdown in Israel.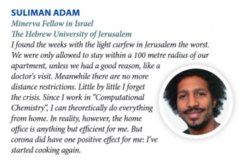 New challenges, possibilities and rediscovering old habits during extraordinary times. Minerva Alumni Suliman Adam has been asked by the Max Planck Journal about his experiences in Israel during the first lockdown in 2020.
Dr. Suliman Adam holds a PhD from Free University of Berlin, Germany. Since 2018 he has a PostDoc position in a Research Group at Fritz Haber Center for Molecular Dynamics, Hebrew University of Jerusalem, Israel. His scientific focus is set on computer based chemistry.
Fritz Haber Center for Molecular Dynamics Research